Click on Pictures to enlarge them
We held our annual Bazaar on Wed. 19th Feb.  It was a huge success as you can see by the photos below.  All proceeds raised goes towards different charities throughout the year.  Well done everyone.
Fifth Class post their letters that they wrote to people who were of interest to them.
First Class and Second Class had a Hurling Blitz.  
2nd Class enjoying the fruit from the Food Dudes Scheme.   Also presenting their projects to their classmates.
2nd Class make hearts for Valentine's Day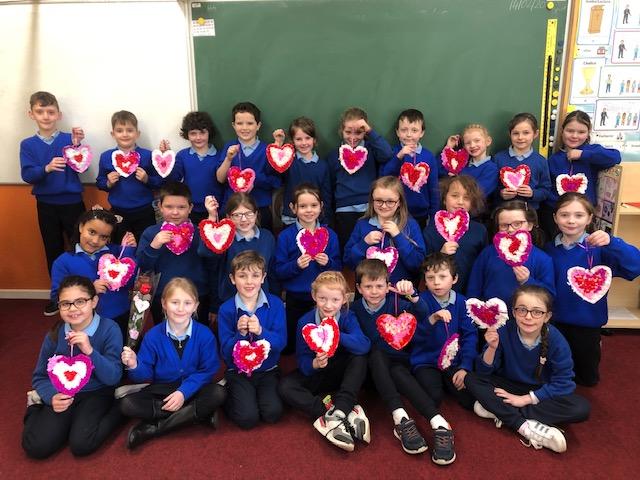 SSUP 6th Class
A video highlighting the need to stop using single use plastics
On Thurs. 19th Dec. we had a Carol Service in St. Rynagh's Church.
On Friday 20th Santa came to our school.  The school choir sang songs to entertain us.  We had a great day.
Junior Infants have a great time making rice krispie buns.
Secon Class reading their stories to Junior Infants.
2nd Class in their Christmas jumpers.  All the children in the whole school brought in €1 or €2 to go towards the Christmas Lights in Banagher.  Also 2nd class at the Pantomime in Coláiste na Sionna with Santa.
Children taking part in the G.A.A. Coaching on Running, Jumping, Throwing catching, Movement, Sending Receiving and Understanding of Sports and Athletics.
Ms. Higgins Junior Infants - Pictures from their Nativity Show.
On Thursday 5th Dec. First Class to Sixth Class performed their Christmas Show.  Here are a few pictures.
On Friday 25th Oct. the whole school dressed up for Halloween.
Making Pizza in 5th Class.
Thursday 24th Oct. making Jam with Mr. McMahon.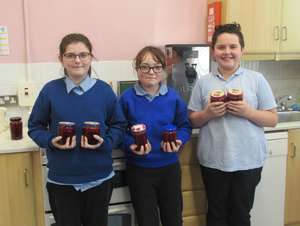 Cycle Right came to our school in Sept. to give 6th class a cycling course.  Cycle Right provides practical cycle safety and skills training to promote competent and confident cyclists. 
"Skippy John" from Skipping 4 Life came to our school on Mon.16th June.  Senior Infants to 6th Classes had a great day learning new skills with skipping games.
Sr. Helen visited our 6th class.  She talked to the children about her mission in Haiti.  Sr. Helen was presented with a cheque for her mission which was from funds raised from our annual Bazaar.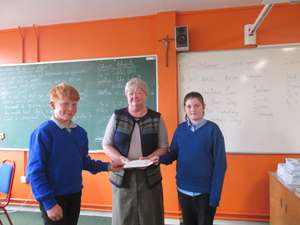 Some pictures from our sports day which took place on Thurs. 20th June.
3rd Class went on a visit to Clonmacnois.
Bro. Brian Johnson came to visit 6th class.  He brought some artefacts in for the children to see.  He was presented with money from our annual Bazaar for his mission.
5th Class went to Dún na Sí Amenity & Heritage Park in Moate.  The Children got to meet & feed the animals, go on a nature walk and have a go at Irish Dancing etc.
2nd Class went on their Tour to Glendeer Pet Farm where they had a great day.
First class went on their Tour today 19th June.  First they had a trip on the River Queen and then they had a guided tour of Lough Boora Parklands.
4th Class on Tour to Athlone Castle and Art Gallery, with a trip on the viking ship.
1st class transplanting pea plants in raised bed.
Junior Infants had a great day on 21st May when they walked down to the playground where they played games and had a picnic.  The weather was lovely as you can see from the photos.
Science in 5th Class:   5th Class making elecctronic quiz boards with batteries and buzzers.
4th Class arranged a very successful Book Swap for the whole school on Fri. 10th May 2019. 
4th Class enjoying science class - construction!
2nd Class at the launch of Spring into Storytime at the Banagher Library on 11th April.
Rock your Socks next Thurs. 21st March, wear the craziest, loudest, oddest and colourful socks and donate €2 to Offaly Down Syndrome.
Happy St. Patrick's Day from 1st Class
What a wonderful day we had on Thurs. 7th March for World Book Day.  We dressed up as our favourite book characters.
First Class on World Book Day
Dolores Keaveny, author, visited our infant & 1st classes today 6th March for World Book Week.
Well done to our Senior Quiz Team Eilidh Bacon, Sibéal McMahon, Niamh Sheehy and Ciara Staunton, who won the first round of the Credit Union Quiz and will take part in the Chapter Final.
On Friday 15th Feb. we held our Annual Bazaar.   Money raised goes towards different charities throughout the year including Sr. Helen's work in Hait, Brother Brian's Mission in Africa and Sr. Annette's work in Tanzania.  Well done to all.
Today 19th Dec. our school choir performed for the residents of Eliza Lodge Nursing Home.
Junior Infants listening to a Christmas Story.
Second class baking Peppermint Polar Bear Creams. 
On Tues. 11th Dec. 1st to 6th class took part in the school concert.  
On Wed. 7th Nov. Dale Treadwell visited 2nd Class.  He taught us about the importance of bees and butterflies so we planted seeds in the school garden.  we are looking forward to seeing our flowers in spring. He also talked to us about dinosaurs and he brought in a dinosaurs claw to show us.  We really enjoyed his visit.
The pupils from 6th class went on an outing to Dublin on Tues. 27th Nov. to visit The National Gallery of Ireland and The Natural History Museum.
Cycle Right
This year 6
th
Class did a cycling course.  It was called Cycle Right.  Everyone was very enthusiastic about the idea.  It was nice to get out of the classroom for a while.
It lasted for four weeks, usually every Thursday.  On the first day one of the instructors did an hour of cycling theory with us before we got on our bikes.  He was very engaging and funny so the time flew by.  Then we were told to get into pairs.  We walked to the yard where we met the other instructor.  There were cones laid out for us and we spent the afternoon working on right and left hand signals, turns and junctions.  Everyone thoroughly enjoyed it.
For the next two Thursdays we practiced many different skills a cyclist needs to have when on the road.  We knew that on the last day we would be brought out onto the road – providing we listened and knew what we were doing.  We were all quite nervous and excited about the prospect of going on the road.
On the day (a week later) the instructors brought most of us out onto the road.  We cycled for around half an hour (in the safe hands of our instructors) and then arrived back at the school.
Everyone really enjoyed Cycle Right.  We were given certificates which will be presented to us at our Graduation Ceremony.
By Eilidh Bacon 
September 2018 - Some of our New Junior Infants enjoying their first few days in school.
In June, 4th Class arranged a Book Swap for the whole school.  The class made Posters, arranged all the books brought in and made receipts for all books.  If you brought in a book you got a receipt, which you could use to on the day of the book swap to get a different book.  It was a huge success with 535 books being exchanged on the day.  Well done 4th Class.
First Class went on their Tour on Thurs. 21st June.  They had a trip on the River Queen, with a picnic in the playground.  Later on they went to the Banagher Library for Yoga and Art.
On Thurs. 21st June 4th Class went on their Tour to Athlone.  They travelled on a Viking Boat from the Hudson Bay to Athlone Castle.  They also visited The Luan Art Gallery.
Infants went on their Tour to Birr, where they visited Birr Theatre, Birr Library and played in the playground.
Second Class Tour to Glendeer Pet Farm June 2018
In February Junior Infants dressed up as book characters for Book Week.  Fifth class read some books to the children.
We had a presentation to all classes on Fri. 8th June about Plants Science and Honey Production.
Our Annual Fundraising Bazaar - Feb. 2018